Green Chile, Chicken, and Sweet Corn Flautas
Green Chile, Chicken, and Sweet Corn Flautas
---
My family used to have a poker night while enjoying a whole slew of crab legs every New Year's Eve. I'm sure some of you may be thinking, "what a treat!" but my five-year-old self would beg to differ. Nothing was more repulsive to me than watching my older brother crack open the legs with a ravenous smile across his face, while I was trying to avoid flying crabmeat. I refused to take part in their feast. Now, my mom wasn't going to let me starve, so she had to quickly come up with an alternative meal for me. She dug around in the freezer for a moment, and then decided on what was to become my own part of our holiday tradition—flautas. Because of this memory, flautas have always held a special place in my heart (and stomach!). So, I thought it would be a fun idea to feature healthy, homemade green chile flautas for my first post! The recipe is so simple, and you can easily alter it to your taste (or make it vegan by leaving out the chicken). The end product was easily one of the most delicious meals I have ever had
---
1 large chicken breast

Cooking spray

1 teaspoon olive oil

1 cup chopped yellow or white onion (about ½ onion)

2 teaspoons chipotle powder

¾ teaspoon ground cumin

½ teaspoon salt

4 to 5 cloves of garlic, chopped

3 cups cooked pinto beans

½ cup Hatch green chile

Juice of ½ a lime

1 cup sweet corn kernels

12 flour tortillas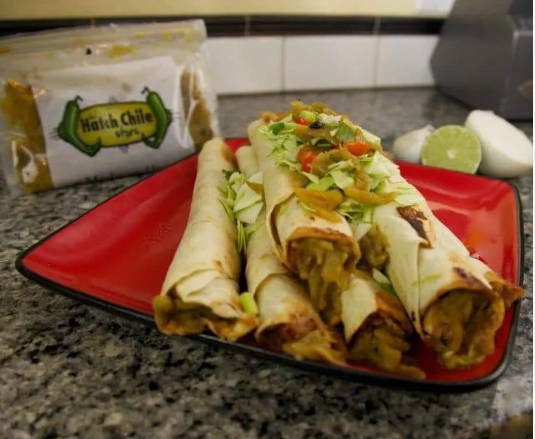 Preheat oven to 425 degrees and lightly grease both a baking dish and baking pan.

With a large knife, butterfly the chicken breast. Season it with your favorite spices (I use a little cumin, salt, pepper, and chipotle powder). Place the breast in a baking dish and bake for 15 minutes. Remove when chicken is cooked all the way through. Using a fork or a knife, shred or thinly slice the chicken breast.

Heat up the oil in a large sauté pan over medium heat. Add in the onion and cook until it begins to brown, about 5 minutes. Add the chipotle powder, cumin, salt, and garlic and cook for another 30 seconds. Remove from heat.

In a large bowl, combine the beans, Hatch green chile, and lime juice. Using a potato masher or a spoon, mash the ingredients together until a paste forms. (It's okay if there are still some whole beans.) Fold in the sautéed onions, shredded chicken breast, and corn.

Using a griddle, your oven, or the microwave, warm up the tortillas. Spread two heaping tablespoons in a line toward the left side of one of the tortillas from top to bottom. Roll the tortilla tightly from left to right. Place the flauta seam side down on the baking sheet about 1-2 inches apart. Keep going until you run out of tortillas or filling.

Lightly coat them all with cooking spray and bake for 10 minutes, until the bottoms are golden. Turn the flautas over and bake until both sides are golden and crispy, another 5-7 minutes. Serve warm topped with lettuce, tomatoes, and Hatch green chile.
---
---