Hatch Chicken Cordon Green
Hatch Chicken Cordon Green
---
Chicken Cordon Green, did you know that was a thing? It's cheesy and it's spicy, it gets a little feisty!  
Thanks, I'll be here all week. The writing process is a funny thing. When coming up with a recipe, I take lots of things into consideration. What are classic green chile recipes? How can I jazz them up in a different way? What is popular this season? Does the weather warrant something cozy or something refreshing? This time around, however, the idea for this recipe was sparked from nothing other than a pun that popped into my head. My husband has been begging for me to learn how to make Chicken Cordon Bleu, and as I strolled through the store, the phrase Chicken Cordon Green popped into my pretty little head. After being sufficiently satisfied with my quick wit, I thought, HEY! That actually sounds like a good idea. And thus, this recipe was born.
I made a quick and easy Chicken Cordon Green. I chose to make a deconstructed version that had all of the same flavors present, but was a little more time-crunch friendly. You can spend as much or as little effort on this recipe that you so desire. You could do this with whole chicken breast, and actually stuff them as the recipe usually explains. I chose the quickest route and used store-bought chicken tenders (a time-saving girl's best friend). These little guys cook like lightning in a skillet. If you have a grill, they cook like--well--something faster than lightning. ANYWAY. All I did was brine the chicken for about an hour in a salt water solution. Then cut the chile and ham into strips and started assembling as the tenders were cooking. So simple, so oozy-cheesy-kickin'-delish.
---
1 lb. chicken tenders

3 roasted Hatch green chiles, sliced

Sliced cheese of your choice (I went with a smoky gouda)

4 slices of black forest ham (or any version of deli ham you enjoy)

Water and salt (for the brine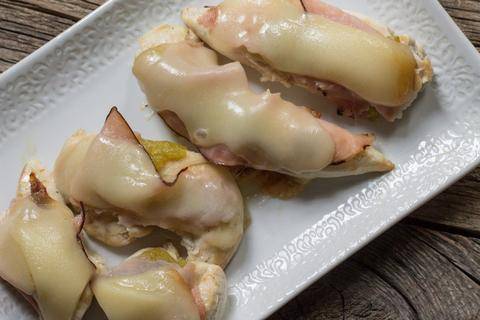 First, place the chicken in a gallon zip bag. Cover with water and a generous amount of salt to create a simple brine.

After about an hour in the fridge, remove chicken from bag with tongs and place in a med-high heat skillet.

After you flip the tenders to the other side, begin assembling the stack.

Green chile strips, then ham, then cheese. Place a lid over the skillet and allow the chicken to finish cooking and the cheese to bubble. Bonus points if you get some crispy cheese on the edges.

Enjoy!
---
---
---