Hatch Green Chile Potato Salad
Hatch Green Chile Potato Salad
Hatch Green Chile Potato Salad is a spicy twist to a classic recipe!
---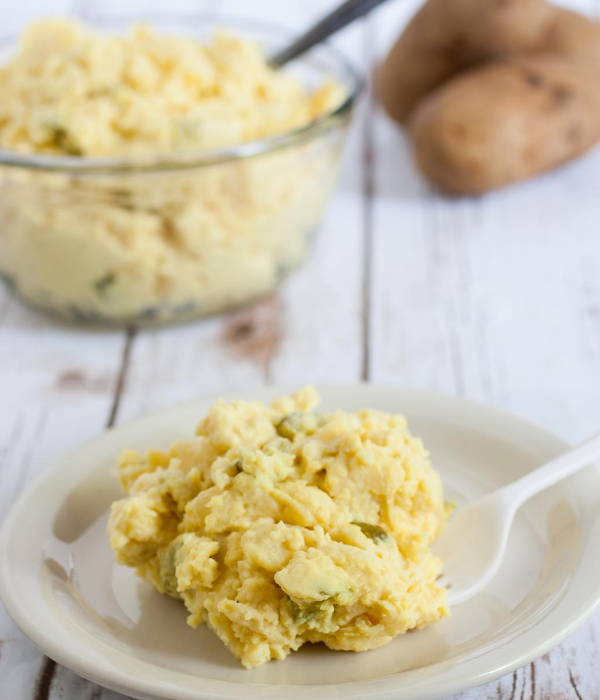 2 1/2 pounds red-skinned or gold potatoes, peeled

 




4 large eggs, hard cooked, peeled, chopped

 




1 small onion, finely chopped, about 1/4 to 1/3 cup

 




3/4 cup chopped celery

 



2 to 3 tablespoons Chopped Hatch Green Chile


1 to 2 tablespoons chopped jalapeno peppers

 




1/2 cup mayonnaise, or as desired

 




2 tablespoons Dijon mustard or spicy brown mustard

 




1 tablespoon dill relish

 




2 tablespoons lime juice

 




1/2 teaspoon salt, or to taste

 




1/4 teaspoon freshly ground black pepper

 




1/2 teaspoon chili powder

 




1/4 teaspoon ground cumin

 




chopped fresh cilantro, optional

 
1. Cut potatoes up and put them in a medium saucepan. Cover with water and bring to a boil over high heat. Reduce heat to medium-low, cover, and boil gently for about 15 to 20 minutes, or until fork-tender. Drain and let cool completely. When the potatoes are completely cooled, cut into bite-size chunks.
2. In a large bowl, combine the potatoes, chopped eggs, celery, onion, chile peppers and jalapeno peppers.
3. Combine the mayonnaise with mustard, relish, lime juice, and seasonings. Add to the potato salad and mix until well blended. If desired, add more mayonnaise.
If desired, garnish with chopped cilantro before serving. Enjoy our Hatch Green Chile Potato Salad!
---
Products Used in this Recipe:
---
---
---