Dal Ingredients
1 cup red lentils
4 cups water
Small onion – 1 cup finely chopped onion
Small tomato – 1 cup finely chopped onion
3 large or 4 medium Hatch or Anaheim Peppers
1 lime
1 tbsp minced garlic
1 ½ tsp cumin
Fresh cilantro
Vegetable oil
Salt and Pepper
Optional topping – avocado slices, thinly sliced jalapeño,
pumpkin seeds, more lime juice
Fry Bread Ingredients
1 cups flour
½ cup lukewarm milk
Hefty pinch of salt
Hefty pinch of sugar
1 tbsp baking powder
Vegetable oil
Instructions
Preheat your outdoor grill. Place your Hatch Chile on preheated grill and cover for a 3-4 minutes without leaving unattended. Lift the lid and check how they are cooking. You want them to get dark and blistered (but not burned) and have the skin separate from the flesh.

Turn the chiles when they reach this point on the first side and complete the process for all sides. When they are done, place in a large bowl and cover with plastic wrap to steam.
After a half hour, you should be able to handle them well and separate the skins from the flesh. Discard the skins, and then open the chile to remove the seeds. Cut the flesh into 1/4" squares and set aside.
In a medium sized pot, sauté the small finely diced onion in two tablespoons of vegetable oil on medium heat. Add salt and pepper. Cook for about eight minutes stirring occasionally, then add your cumin, chopped tomatoes, chile, and garlic. Cook for about five minutes as the tomatoes start to break down.
Rinse lentils until water runs clear and drain. Add lentils to the pot with other ingredients plus 4 cups of water, ½ tsp kosher salt, freshly cracked black pepper. Bring to a boil on high heat. Once boiling, drop it to medium low and stir every 3-5 minutes until lentils are
cooked, about 30-40 minutes. The consistency should be like a rough puree with a bit of texture from the soft lentils. Keep in mind it will thicken as it cools on your plate.
Add juice from half a lime and 1/3 cup fresh chopped cilantro
just before serving. Check for seasoning levels according to your taste (salt, pepper, cumin, and lime). Serve with basmati rice and fry bread. Top with your choice of sliced avocado, thinly sliced jalapeno, more chopped tomato, toasted pumpkin seeds, more lime juice, and/or more chopped cilantro.
To make the fry bread, whisk dry ingredients and combine with milk until it forms a ball. Let rest 30 minutes. Divide into 6 equal pieces. Flatten with hands until each ball becomes a 4-inch disc. Cook in a preheated pan on medium heat with 1/2 inch vegetable oil until golden brown on each side.
"New World" Hatch Chile Dal
as published in the Ravalli Republic
By Jon Bennion @intermediatechef
I'm not sure how long it took European explorers to realize they had not found a new way to travel to India in the 15th century, but naming the inhabitants of the "New World" in the western Hemisphere "Indians" is a label that inexplicably stuck. You would think that this realization would have quickly led to a correction.
The indigenous people of the western hemisphere and Indians from the Asian subcontinent are two groups are incredibly diverse in their own right. American Indians, Alaska Natives, and others stretching from the top of North American down to the lower tip of South America had and still have distinct languages, customs, histories, and food traditions. The same is also true of Indians from southern Asia – a vast population of over a billion people with very different culinary practices, languages, religions, and culture. A comparison of the two – especially on the food side of things – seems to show little overlap.
With this dal dish, I developed a recipe that uses one of the most famous dishes to come out of the Indian subcontinent and used ingredients that were available to the indigenous populations of the western hemisphere. Dal is very popular Indian subcontinent meal that uses lentils and many aromatics and flavors to create a satisfying vegetarian or vegan meal. Red lentils, also known as masoor dal, break down in this recipe and create a creamy consistency that nourishes you with its superfood status.
While lentils are not a "New World" ingredient, we do happen to grow more of them in Montana than any other part of the country. My favorite are ones called Petite Crimson lentils grown by Montana farmers and sold by Timeless Food (www.timelessfood.com). Many stores will sell red lentils in one-pound packages or in the bulk food section.
This dal is enhanced and paired with ingredients that weren't a part of "Old World" cuisine until European explorers brought them back following expeditions. Chiles, avocados, tomatoes, pumpkin (I use the seeds) and a cameo of American Indian fry bread (instead of the traditional Indian naan) are the ingredients that will blend some rich culinary traditions of these vast populations together into something you will love to put on your kitchen table.
 For this recipe, I used Hatch chiles from New Mexico that are in season every August and September. They can often be found in Montana grocery stores during those months, or you can order them online. If not, consider using their sisters, Anaheim chiles, which can be found nearly everywhere all year. The dal and the fry bread are a great meal alone, but you can also serve on top of some fragrant basmati rice.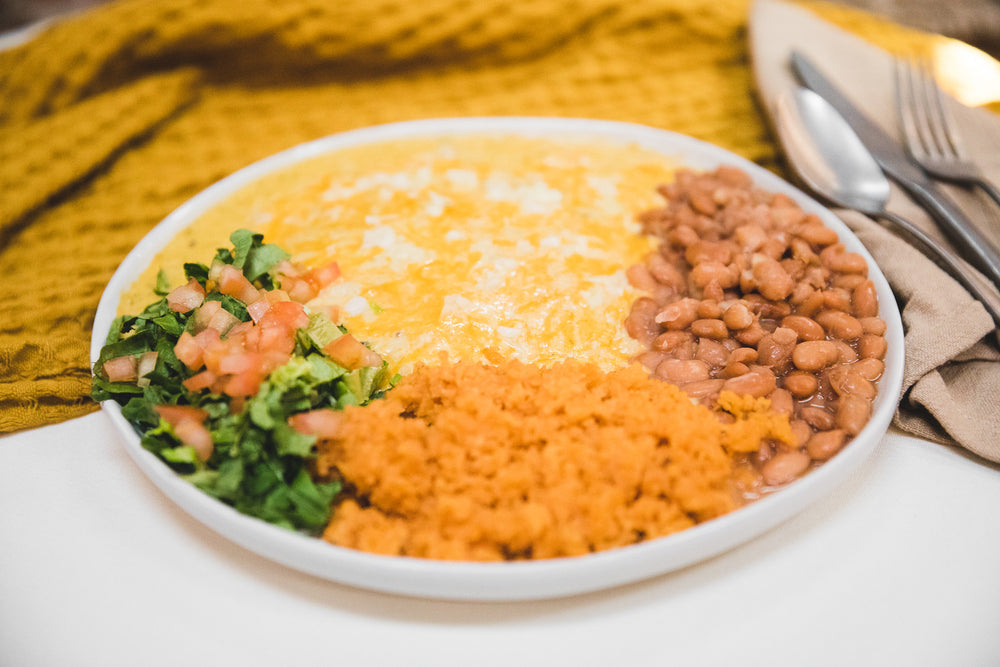 Hatch Green Chile Enchiladas
Red or Green is literally our state question folks.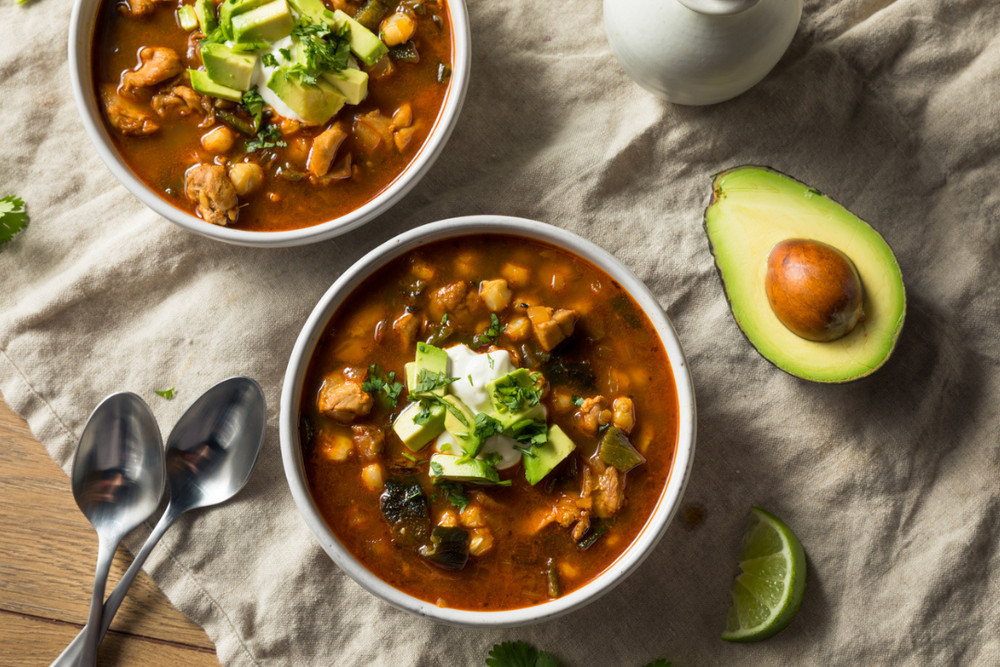 Posole
There's nothing better on a cold day that a bowl of posole.
Hatch Red Chile Enchiladas
A classic New Mexican dish, you can't go wrong with enchiladas.