Traditional New Mexican Posole
---
No Christmas or New Year's celebration in New Mexico is complete without three things; Tamales, Biscochos, and Posole (Non New Mexicans may spell it Pozole)! Now tamales and biscochos are an absolute labor of love that take a ton of time and work. Posole is easy to make, it just take's some time...
So let's get to it!
Ingredients
1lbs of Hominy (Also sometimes called Posole. I know it's confusing)

1 Jar of our Fresh Chile Co Pure Red Sauce

1lbs-1.5lbs Pork Shoulder (My mom always made it with Pork Tenderloin)

1 Clove of Chopped Garlic

1/2 Cup of Chopped Onion (About 1 Small Onion)

3 Tbs of our Posole Seasoning (Salt, Garlic, Onion, Ground Cumin, and Oregano

1 Tsp of Salt
Instructions
If using out Dried Hominy soak overnight in 8 cups of water. The next morning drain the water and rinse the hominy.

Cube your pork shoulder into bit sized pieces and set aside.

Bring hominy and 8 cups of water to a boil in a large covered stock pot. If you didn't soak your hominy for long enough you may need to add an additional 1-2 cups of water. The hominy will boil for 2 hours.

While your hominy is cooking away brown your pork shoulder. Once browned add a jar of our Fresh Chile Co Pure Red Sauce, chopped onion, and chopped garlic. Cook until the pork is done.

After 2 hours add your pork and red sauce to the stock pot. At this time you will also add the 3Tbs of our Posole Seasoning and the 1 Tsp of Salt. Cook at a simmer for an additional hour.

Dig in! For a list of recommended toppings see below.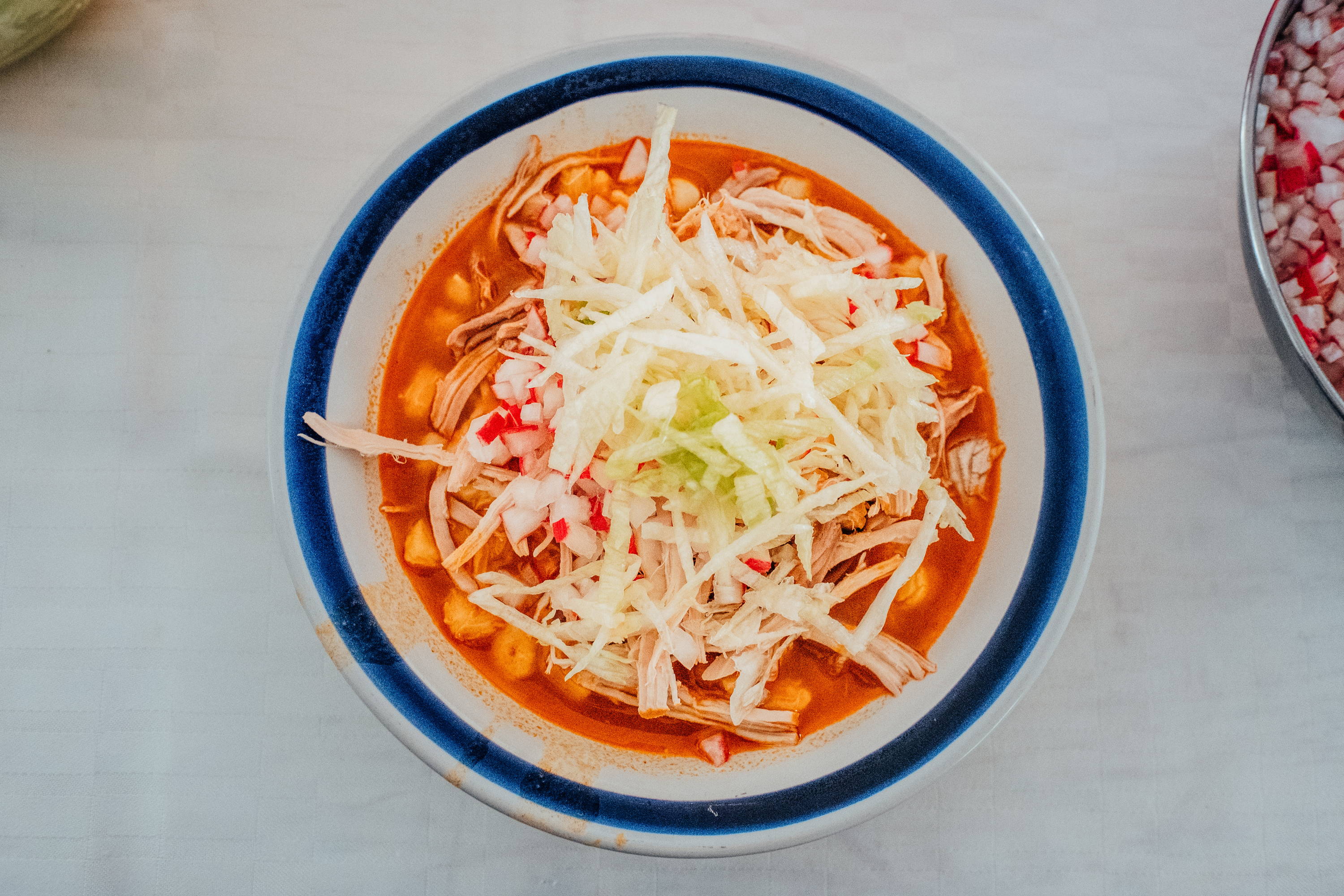 ---
Products Used In This Recipe
---
I prefer to use out Fresh Chile Co Pure Hatch Red Chile Sauce which is a bit sweeter than our Traditional Fresh Chile Co Hatch Red Chile Sauce. If you were raised on red sauce made from dried chile I would go with our Traditional Hatch Red Chile Sauce.

Start soaking your hominy right when you wake up! That way it is ready to use when dinner time rolls around.

Posole freezes like a dream! Don't be afraid to double the recipe above so you have plenty to freeze for leftovers.
Topping Recommendations
Limes

Shredded Cheese

Shredded Cabbage

Diced Onion

Cilantro

Sliced Radish

Avocado