Hey Chile Family!
Here at The Hatch Chile Store, we love providing you with all of your chile needs! We know many of you shop only Fresh Hatch Chile and others shop only frozen Roasted Hatch Chile while others shop primarily from our dry goods. We want you to know we have that and so much more!
Because we have such a wide variety of products and shipping methods, we thought we would take a minute to show you what is available and tell you how they ship. We might ship a lot of chile, but we are still a small business! We ship from several locations across the USA with different providers and turnaround times to serve you quickly and efficiently.
Some of our most popular items are our New Mexican prepared food items! We have Rellenos, Tamales, and Chimichangas!  Oh, and Bacon! We also have Hatch Green Chile Bacon! These are prepared right here in Southern New Mexico, and shipped directly to you. These items do ship free in insulated boxes with cold packs or dry ice. 

We are in the middle of switching distribution centers to ensure that your order arrives in great shape! We appreciate your patience as we have a slight delay in shipping these items. It won't be long now! Once our new distribution partners are up and going, orders will ship with a much better delivery experience.

While we are waiting for this exciting change, we have other products for you!
I don't know about you, but number 5 might be my favorite! Burning calories just by eating chile? Sign me up!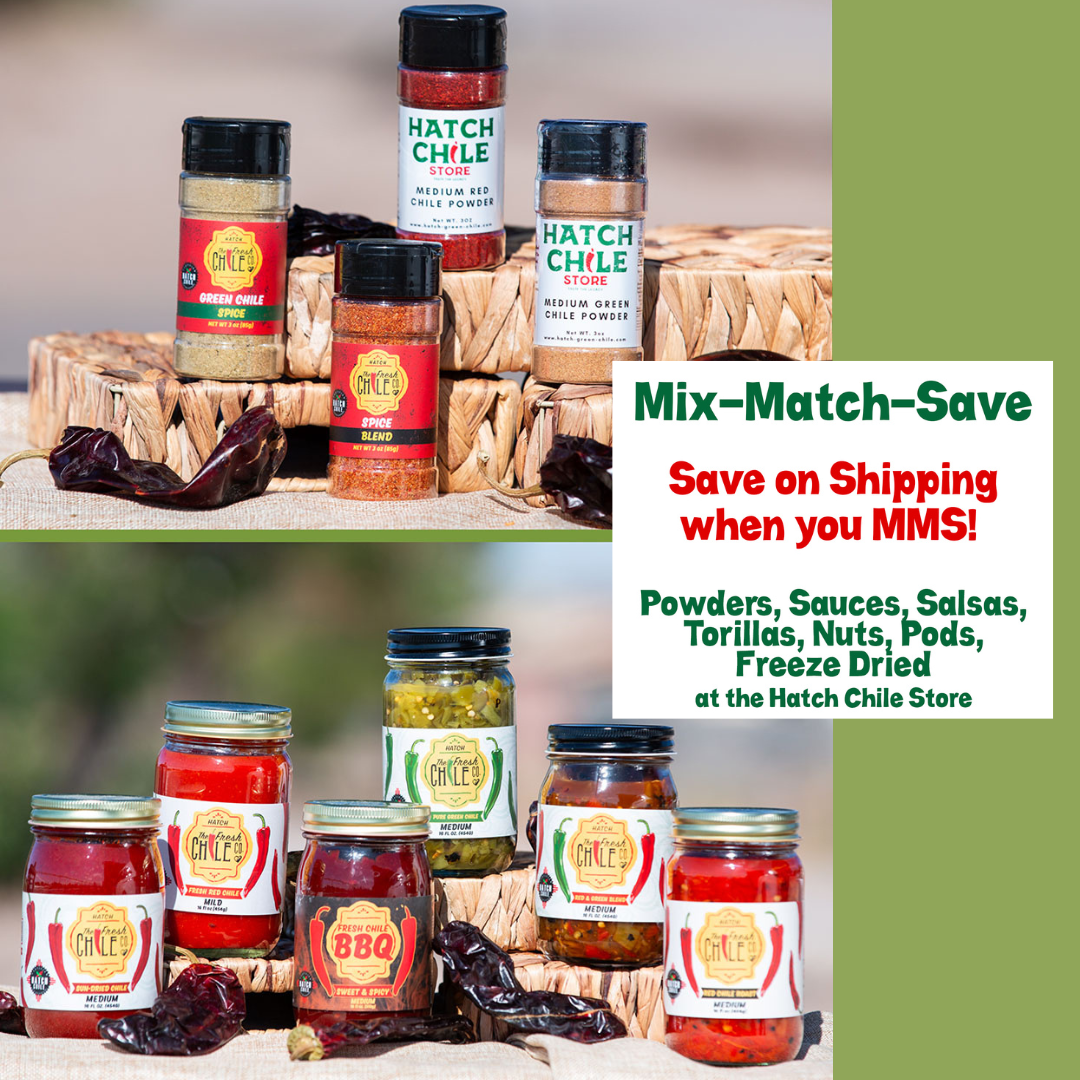 Did you know we have a full line of Salsas and Sauces, as well asSpices and other Dry Goods made with Hatch Chile? We know many of you enjoy making your own, but for those who don't, we've got you covered! These items all qualify for mix-match-savings. Buy more, and your shipping costs drop! These items ship from a local warehouse, so we expect them to ship with a two to three weekday turnaround time!
We are currently shipping all levels of Fresh Green Chile! This chile is packed and shipped from our very own packing shed. Chile is sent to you fresh from the fields. Due to the extreme heat, we are recommending that all chile ships overnight. Shipping your chile with guaranteed shipping is like an insurance policy for your chile! If it arrives spoiled, we take care of it! 

Since chile is an agricultural product and must be harvested to ship, we only ship fresh chile on Tuesdays, weather permiting. Your shipping time on fresh chile is from the time it ships, not from when you place your order or the label is printed. Some Tuesdays, we might run out of chile, but we harvest more and ship the next day! If your label shows it has been printed, but there is no movement, it is probably going out on Wednesday. Because we are packing thousands of boxes in a variety of heat levels and sizes, we often have a hard time knowing exactly which boxes ship on Tuesday or Wednesday. We appreciate your understanding as we strive to get you the best chile in the most timely manner possible.  
We are accepting pre-orders for the 2023 Season of Roasted Chile. This chile is roasted and frozen. It ships with all of our other frozen items and is also included in the Buy More Save More!  These items will ship beginning in October. 
The Sandia Ristras are also on pre-order! They will ship later in the fall, just in time for holiday decorating or gifting! 
We love to hear from you! Tell us your must-haves from our collections!