Hatch Green Chile Alfredo
Hatch Green Chile Alfredo
---
Hey there! I'm so excited to share this AMAZING recipe for Green chile chicken fettuccine alfredo with you. Let me tell you how much I LOVE Italian food. As in, I eat pasta multiple times a week. In my mind there is absolutely nothing better pasta or some toasty French bread. But, every now and then the marinara and alfredo sauce gets a bit boring. Enter the magic that is green chile.
I know it sounds a little weird, green chile in my Italian food? I was once a skeptic too, but my brother converted me. Just stick with me here and you'll never go back to plain old alfredo sauce.
Growing up the kitchen was always the heart of our home. I can't tell you how many hours I spent sitting on a counter top talking with my big brother and parents. My mom always made it a point to make home cooked meals for us, it was one of the ways she showed her love for her family. She also made it a point to make sure than my brother and I knew just how much effort went into cooking a meal, by teaching us how to cook.
When it was my brother's turn to make dinner that night he always made one of two things, mac and cheese or fettuccine alfredo. I know, both are delicious pasta, maybe my love for Italian food is genetic, who knows. Anyways, fettuccine alfredo is always something that I will associate with my brother. He probably has made it more for me over the years than my mom has. But today I made it for him and brought him a plate.
Now growing up we didn't put green chile in our fettuccine alfredo. But once my brother got to college, he saw this dish in a restaurant and decided it was a great idea. At first, I refused to try it, green chile just didn't sound like something that goes with pasta. Oh, how I regret that decision, I missed out for years! The green chile adds a whole new depth of flavor and spice. It puts a southwestern twist on a classic Italian dish. So, if you love Italian food (who doesn't) and green chile (everyone should) then this dish is a dream come true for you!
---
1lbs Chicken Breasts

½ Cup Butter

1 Small Onion

½lbs Mushrooms

1 Lemon

1 Can Chicken Broth (14.5oz)

¼ Cup Flour

1 Pint Half and Half

1 Cup Shredded Parmesan Cheese

12oz Linguine

Salt (To taste)

Pepper (To taste)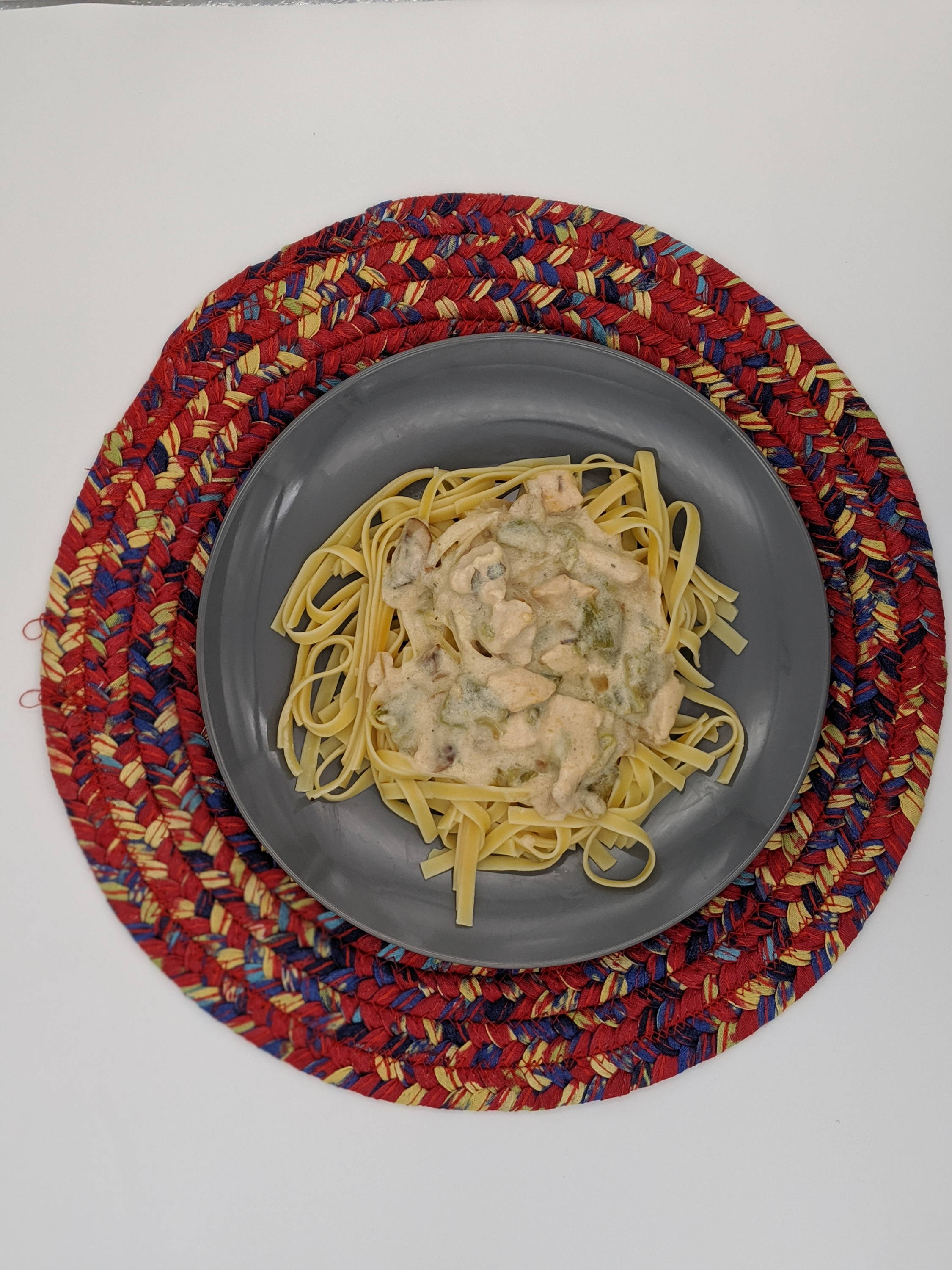 Cube chicken breasts.

Slice mushrooms and mince onion, set aside.

Heat deep saute pan on medium high heat and melt 2 tablespoons butter.

Sauté cubed chicken breast until cooked through (5-8 minutes depending on the size of your cubes).

Remove chicken from pan and set aside. Then melt an additional 2 tablespoons butter.

Add onion, mushroom, and lemon juice. Cook until tender (5-7 minutes).

Remove mushrooms and onion from pan and set aside. Add remaining butter to pan.

Once the butter has melted add flour, salt, and pepper.

Set water to boil with a splash of salt.

Add pasta to boiling water and cook for 12 minutes.

Add chicken broth and half and half. Use a whisk to stir until there aren't any flour clumps. Bring to a boil.

Add chicken, mushrooms, parmesan, and green chile. Cook for an addition 3-5 minutes.

Drain pasta.

Enjoy 😊
---
---
---