Mini Green Chile Corn Dogs
Mini Green Chile Corn Dogs
---
This recipe is a crowd pleaser, and the mini version makes them easy to pass around and share with friends.
(Adapted from Paula Deen's corn dog recipe)
Mini green chile corn dogs? What in the world? I know, that's what I thought to myself as the idea donned on me. These little guys are adorable and fun with an extra kick. If you don't live in New Mexico, be sad for your lack of Hatch green chile, but be happy that it doesn't feel like you're 5 inches from the gates of hell in September. (Too far? Too far. My bad.) While I cling to little bits of summer like cookouts and road trips and days that vanish into night ever-so-slowly, there are so many reasons I run toward fall without turning back.
The fall season is like that magical family member that lives far away and only comes once in a blue moon. Their life seems like a fairytale as they travel and have amazing friends and there is so much for you to learn about them. When they come, you soak up every second and wish that they would stay longer and longer and LONGER. Living in New Mexico, this is how I feel about fall. But if I had to pinpoint my absolute favorite thing about the transition from summer to fall, it would be the event that happens on the very cusp: The State Fair.
Most things come on a stick, whether natural (as in, drumstick), or ingeniously applied by man to maximize eating and walking effectiveness. Everything about corn dogs and curly fries reminds me of the fair. While I'm still trying to dream up something to do with green chile and curly fries (loaded with queso is my best idea so far), I went ahead and took a stab at homemade corn dogs for the first time ever.  
They were so fun to make! It's a little bit of an involved process, but I think it's totally worth it. Especially if you're making something for a football get-together or a party, this is great finger food! I riffed off of Paula Deen's corn dog recipe. I could not for the life of me find something titled "self-rising corn mix," so I grabbed a box of Jiffy, omitted the added sugar and called it good. And I mean, GOOD. I hope you guys find these to be a spicy take on an old-time favorite!
---
vegetable oil, for frying

1/4 cup cornstarch

1 package beef hot dogs, cut in half

1 1/2 cups jiffy mix (one box)

1/2 cup all-purpose flour

1 1/4 cups buttermilk

1/4 cup Hatch Green Chile Roasted, Peeled, & Chopped

wooden skewers, cut in half
Heat oil to 350 degrees in large dutch oven.

Cut hot dogs in half and place on skewers.

Dredge hot dogs in cornstarch, and tap off the excess.

Combine jiffy mix, flour, buttermilk until smooth.

Add chopped green chile and stir to combine.

Dip hot dogs into batter until covered, and place in oil holding the end of the skewer.

Fry until golden brown, about 2-3 minutes.

Repeat unto your heart's content!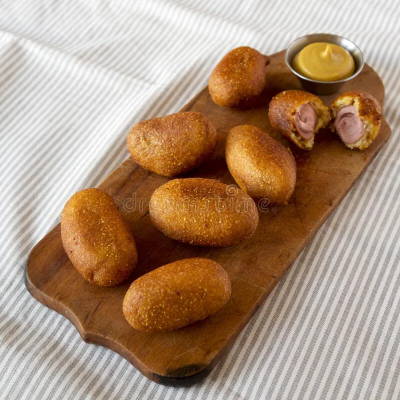 ---
---
---