Red and Green Spiced Chickpeas
Red and Green Spiced Chickpeas
Crunchy, spicy, savory, munch-tastic
---
These Red and Green Chile Spiced Chickpeas are all that--WITHOUT the bag of chips. We all know the drill. It's felt like weeks since you've had a healthy meal full of whole foods. It's a Saturday night—the weekly equivalent of New Year's Eve—and you say, "Okay, I'm cracking down this week and starting over!" You plan some meals and get some healthy haul at the grocery store. But as your mind moves to the healthy snack category, it starts to spiral out of control.
Don't get me wrong. I am so glad to see so many choices for healthy snacks in the grocery aisles nowadays. They're organic, full of protein and fiber and all that jazz. But does anyone else's brain simply not compute when these snacks are virtually breaking the bank? I am a grocery budget nerd. I often do the math as such: If I am going to eat this whole bag in one sitting, WHY in the world would I pay $5.50 for it? Catchin' my drift? Okay, I'll get off my soapbox. HOWEVER, the moral of the story is that, in an effort to eat healthy, I am always searching for snacks that are great for munching. There are two qualifications that make something great for munching:
Cost-effective: As in, I can afford to make or buy a big batch.

Small: I can eat them one or two at a time for an extended period and they won't break the calorie bank.
I know I'm breaking all sorts of healthy eating laws by telling you I don't focus on every bite as it goes in, but COME ON. LET'S BE REAL. Anyway, so here we are with these Red and Green Chile Spiced Chickpeas. They're cheap as ALL GET OUT. They're teensy. And the addition of the amazing red and green chile powders makes for the perfect balance of flavor and spice. Eating these babies is like the grown-up version of those Hot-Cheetos-Fingers I'm sure everyone remembers. And an added bonus, they're packed with protein and fiber, so they actually leave you satisfied after a little bit of munching! I know, I know, I'm a genius. As usual.
---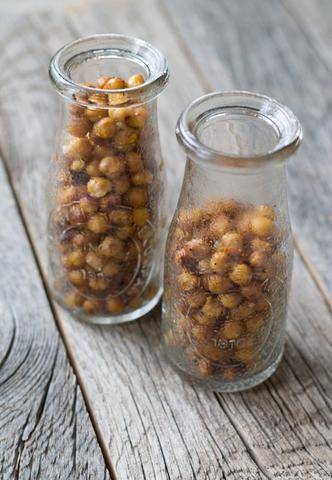 2 cans of chickpeas, drained and rinsed

2-3 tbsp. olive oil (enough to coat the chickpeas with spices)

1 tbsp. Green Chile Powder
1 tbsp. Red Chile Powder

2 tsp. sea salt
Heat oven to 400 degrees.

After rinsed, place chickpeas in a bowl and toss with oil, spices and salt until coated.

Spread chickpeas in one even layer on a baking sheet and bake until crisp. About 35-40 minutes.
---
---
---