Hatch Green Chile Stuffed Bell Peppers
Hatch Green Chile Stuffed
Bell Peppers
---
I am so pumped to be back with all the chile lovers this summer, and am so ready to share some awesome recipes with our beloved ingredient. The easiest job out there is to show somebody more ways to use something they love. It's like giving candy to a baby! Oops... that's probably illegal or something. Clearly, I haven't been given the Mom Card yet. Okay, let's move on.
Once upon a time there was a girl, born and raised in New Mexico, just 30 miles from the green chile capital of the world. As it is a rite of passage to grow up, get married and move away, the New Mexico born and bred broad (that's right, sometimes I call myself a broad) got married and moved to Texas. Although Texas is not QUITE so bad when it comes to accessibility of Mexican food, there's nothing like getting the REAL DEAL green chile straight from the company's owners whom you've known since high school. You guys, I'm up to my ears in green chile and it's my job to taste test, tweak and taste test again. Let me just say, I don't hate it. Now, for the recipe.
To me, summer means simple. It means small bites to be enjoyed on the back deck with friends. It means a recipe that takes two shakes of a lamb's tail, because anything more requires the moisture wicking clothing that seems to cost as much as that suit you just bought for an interview (What's up with that?). As soon as I received my 5 feet 7 inches worth of the good stuff (up to my ears, remember?), I immediately thought, stuffed bell peppers. OF COURSE. It's a throw everything in the pool and bake for a hot second kind of recipe. In fact, now that I'm thinking about it, you could even go without the baking and have a little bit more of a crunch in the bell peppers and serve them room temperature, which is a great option for entertaining.
---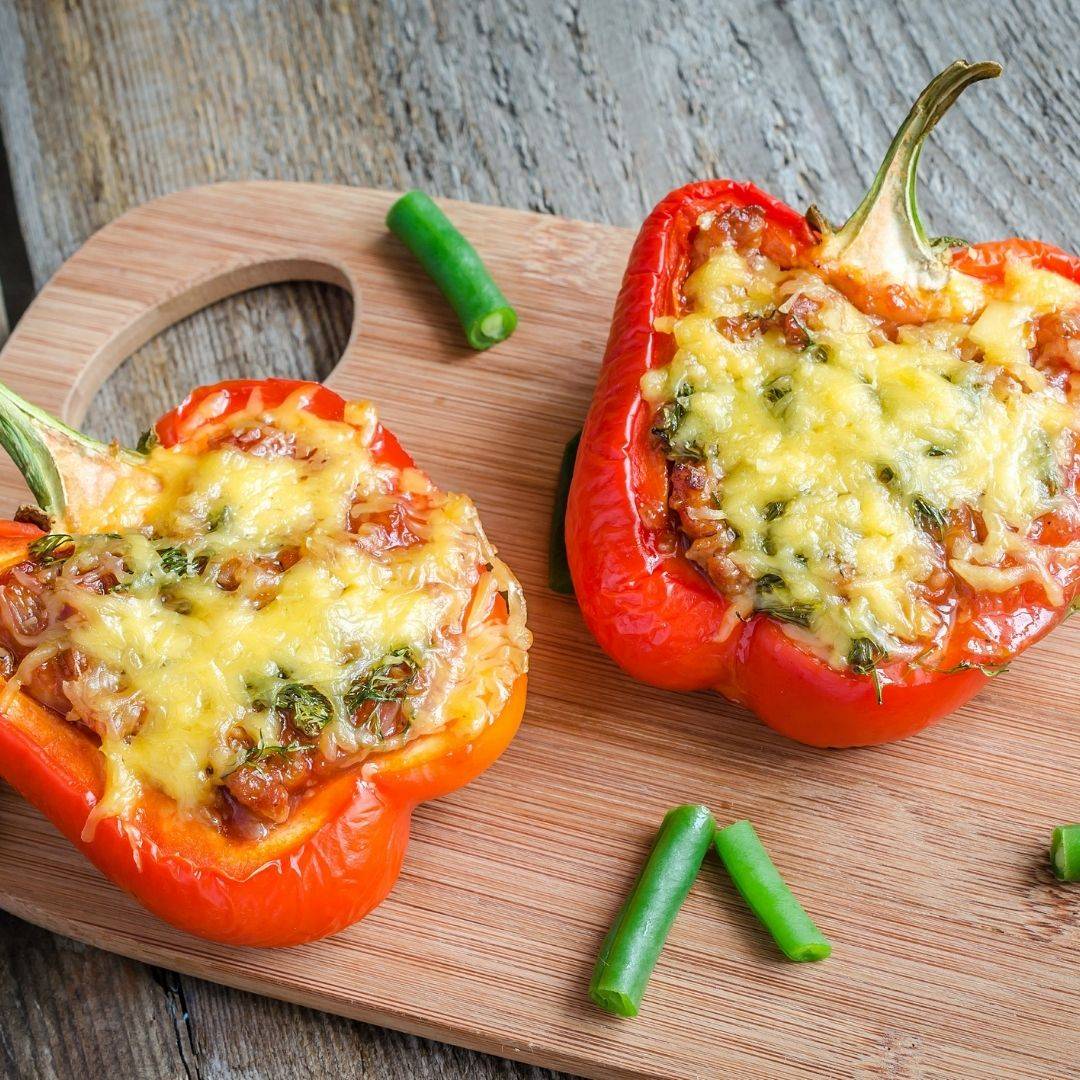 1 bag of bell peppers

1 lb. ground beef

1/2 c. cooked rice

2 tbsp. tomato paste

1/2 c. Hatch Green Chile Roasted, Peeled, & Chopped

1 tbsp. garlic powder

chicken stock (for the rice)

shredded cheese for topping
Preheat oven to 350 degrees.

Cook rice according to package instructions (I use chicken stock instead of water for more flavor).

In separate skillet, brown the ground beef.

When the beef is about half done, add green chiles, garlic powder and tomato paste. You may need to also add a splash of water in order to evenly distribute the tomato paste.

When rice is done, add that to the ground beef mixture, and set aside.

Grab a bell pepper, slice one side off, just enough that you can scoop out the ribs and seeds and fill those babies up. Repeat until all the bell peppers become little boats

Fill mini boats with the beef mixture and top with cheese.

Bake for about 10 minutes, or until cheese is bubbly and bell peppers are warm.

Serve immediately! (As I mentioned before, I think you could get away with foregoing the baking altogether, if that works better for you. Let me know how it turns out!)
---
---