Ingredients:
- 1 tbsp Vegetable Oil
- 1 tbsp Sesame Oil
- 2 Cloves Garlic - Minced
- 1 tsp Minced Ginger
- 1 Tbs Red Chile Powder (2 Tbs for an extra kick)
- ⅓ cup Soy Sauce
- ⅓ cup honey
- 2 Chicken Breasts - (approx 350g/12.5 oz) Cut into cubes
- 1 Red Bell Pepper - Cut into Cubes
- 1 Green Bell Pepper - Cut into Cubes
- 8oz of Sliced Mushrooms
- 1 Onion - Diced
- 1 Tbs Sesame Seeds
- Small Bunch of Coriander/Cilantro - Chopped
Instructions:
1. Mix the Vegetable Oil, Sesame Oil, Garlic, Ginger, Red Chile Powder, Soy Sauce, and Honey together in a small bowl.
2. Place the chicken in a bowl and pour on three quarters of the marinade (save the rest for brushing on the chicken during cooking). Cover and place in the fridge for at least 1 hour (or up to a day).
3. Soak your skewers if they're wooden ones (to prevent them burning) or use metal skewers.
4. Thread a piece of chicken onto a skewer, followed by a chunk of red bell pepper, then a slice of onion, and a slice of mushroom. Repeat until you use up all ingredients.
5. When you're ready to cook, heat your BBQ or griddle until it's very hot.
6. Place the skewers on the BBQ or griddle, and cook for 8-10 minutes until cooked through. Turn 3-4 times during cooking, and brush with the extra marinade through cooking.
7. Sprinkle with sesame seeds and coriander, then serve with your favorite sides.
Tips
1. Try marinating the chicken overnight.
2. If you just love this marinade double it! That way you have plenty to brush on the kabobs while they are cooking.
3. These are so customize-able! Feel free to add whatever ingredients you like. Zucchini, tomatoes, pineapple, baby potatoes, and corn are all amazing!
Sweet & Spicy Chicken Kabobs
These kabobs are packed with flavor thanks to the marinade.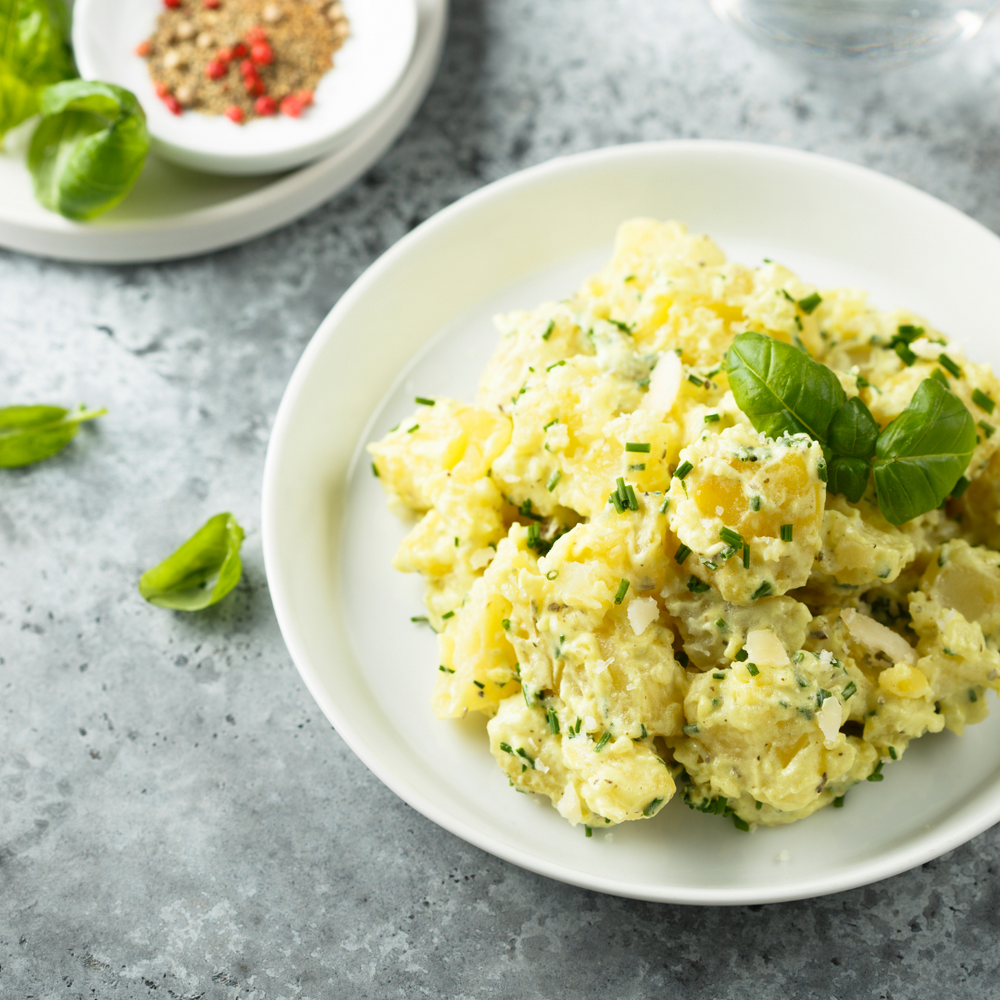 Hatch Green Chile Potato Salad
A spicy twist on a classic backyard bbq dish.
Hatch Green Chile Pasta Salad
The perfect recipe for your next picnic.