Ingredients:
Pastry:
- 3/4 cup (180 milliliters) coconut oil
- 1 1/2 cups (200 grams) all-purpose flour, plus more for dusting
- 1 1/2 teaspoons ground turmeric
- 1 teaspoon salt
- 6 tablespoons (90 milliliters) ice water, plus more if needed
- 1 1/2 teaspoons white vinegar
Filling:
- 4 to 5 medium (about 1 kilogram) yellow flesh potatoes, peeled and quartered
- Kosher salt
- 1 tablespoon (15 milliliters) canola oil
- 2 teaspoons coriander seeds, lightly crushed
- 1 teaspoon cumin seed, lightly crushed
- 3/4 teaspoon fennel seeds, lightly crushed
- 1 tablespoon garam masala
- 1/2 teaspoon cayenne pepper
- 1/4 cup roasted Hatch Green Chile
- 1 tablespoon finely minced ginger
- 2 garlic cloves, finely minced
- 3/4 cup (90 grams) frozen peas
- Freshly ground black pepper
- 1/2 to 3/4 cup (125 to 185 milliliters) vegetable stock
- Coconut oil, melted, optional
- Cilantro, for serving
- Tamarind sauce and/or mango chutney, for serving
Instructions:
1. For the pastry: Measure out the coconut oil and spread out onto a piece of parchment paper. Place this into the freezer for about 30 minutes to freeze until very firm and cold.

2. Pulse together the flour, turmeric and salt in the bowl of a food processor. Break the frozen coconut oil into pieces, add into the flour and pulse until the fat is broken up into pea-sized pieces, 5 to 10 times. Mix the water and vinegar together.

3. Turn the flour mixture into a large mixing bowl and using a wooden spoon, gently mix in the water and vinegar mixture to form a shaggy dough, adding more water if needed so it holds together. Press the dough into a ball and transfer to a piece of plastic wrap. Wrap the dough, flatten into a rough disk and place in the fridge for 45 minutes or up to 1 day.

4. For the filling: Cover the potatoes with 1 inch of cold water, season with salt and bring to a boil over high heat. Cook until the potatoes are tender, about 15 minutes. Drain and allow them to steam dry until they are cool enough to handle. Break apart the potatoes into small bite-size pieces and set aside.

5. Heat the oil over medium heat in a large skillet. Add the coriander seeds, cumin seeds and fennel seeds and cook for 15 to 30 seconds to toast. Stir in the garam masala, cayenne and chile. Season with salt and cook for about 1 minute. Add the ginger and garlic and cook for 30 seconds, then add in the potatoes and peas. Season with salt and pepper. Stir to combine, then add in enough vegetable stock to moisten the mixture and loosen any bits stuck on the pan.
6. Set the filling aside to cool to room temperature.
Set the oven rack to the lowest position, preheat your oven to 425 degrees F (220 degrees C) and line a baking sheet with parchment paper.

7. Lightly dust a work surface with flour and roll out the pastry into a 1/2-centimeter (1/4-inch) thick circle. Place the pastry onto the prepared baking sheet. Transfer the filling into the center of the pastry and spread into an even layer, leaving about a 3-inch border all the way around. Fold the edges over the filling to form the galette and, if desired, brush the pastry with a little melted coconut or canola oil.

8. Bake the pie on the bottom rack for 35 to 40 minutes or until the pastry is golden brown and crisp. Allow the pie to cool slightly and serve scattered with fresh cilantro and tamarind sauce or mango chutney.
If you don't have any of our Roasted Hatch Green Chile on hand you can also roast your own Fresh Hatch Green Chile or use our Hatch Green Chile Roast.
Hatch Red Chile Enchiladas
Red or Green is literally our state question folks.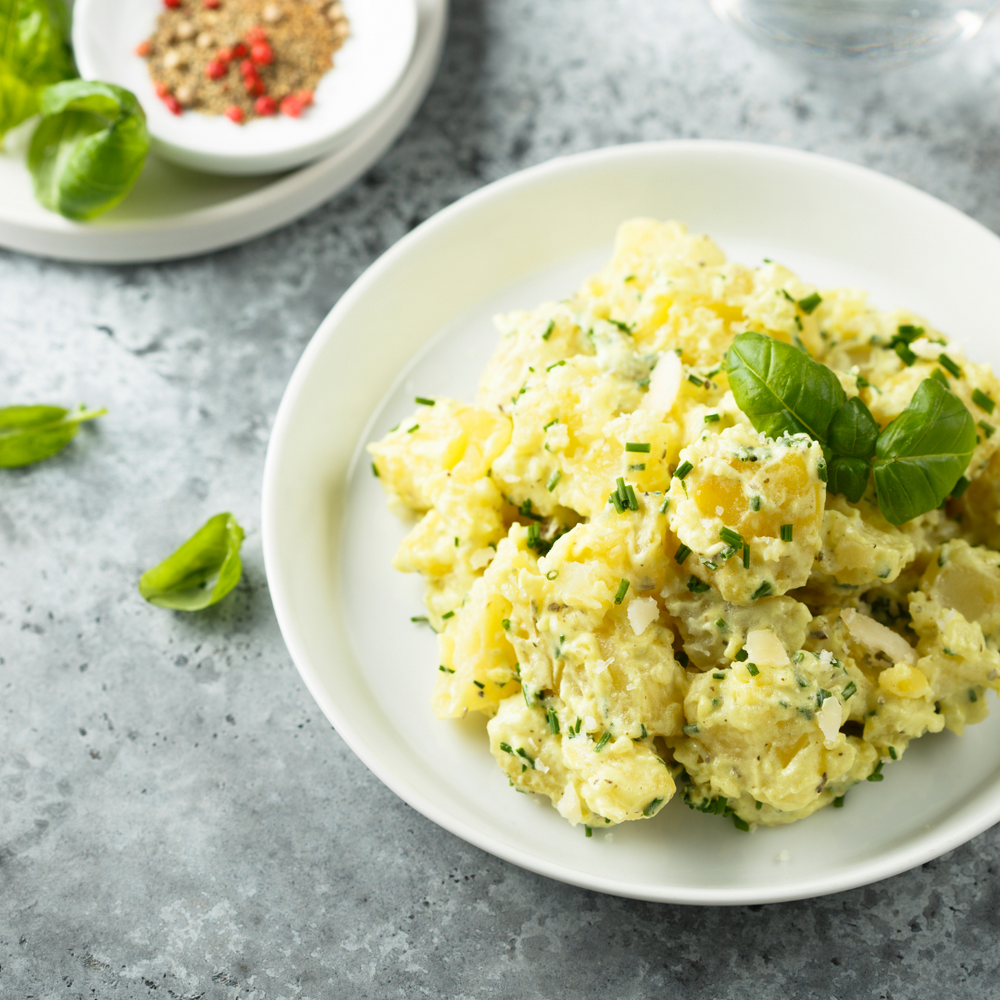 Hatch Green Chile Potato Salad
The perfect side for any backyard barbeque!
Hatch Red Chile Ribs
Sweet & Spicy, these ribs are sure to be a crowd favorite.