---
Do you have a favorite type of recipe to learn? My favorite type of recipe to learn is what I call a method recipe. These recipes are the most versatile you can have in your arsenal. Why? Once you learn the method, you can throw in anything your heart desires and come out on the other end with a very desirable product. Depending on your mood, you can either make a frittata with carefully planned ingredients from the store, or you can toss in whatever is left in the bottom of your fridge.
The most important component in taking the frittata to the next level is really the last one, that extra flavor punch. Can you imagine a dish that can be completely safe or entirely fancy, all in the same amount of time and work? Well, get out your pen and paper, because you've found it!
This week I made an Burque Turkey Green Chile Frittata. This super simple flavor combination is one that is used on a sandwich, called the Albuquerque Turkey in restaurants across New Mexico. Turkey and green chile are the mainstay components in this theme, and they fill the roles of added protein of choice and extra flavor punch in your formula. The chopped, frozen green chile, once again, was my go-to for this recipe. It is so easy to defrost and toss it into the mix.
For this recipe, I chose to add a little bit of cumin and garlic powder. These are both flavors that really complement the green chile, our star. It is possible to make a frittata without cheese if you so desire (I've done it before). However, it is a little more difficult to achieve that bubbly-brown look on top if you omit that ingredient from the formula. This time I went for Monterrey jack cheese because of its mild flavor as to not distract from our central ingredients.
The actual cooking process of a frittata fits into an easy-to-remember equation as well. SAUTE, SET, SCORCH. Scorch may not be a technical cooking term, but I was not about to say saute, set, broil. The last step, the scorching (broiling), is extremely essential in order to achieve the fluffy inside and bubbly exterior that makes the appearance of a frittata SO fancy. This is one of my favorite things to make on a Sunday night in order to get ready for the week ahead.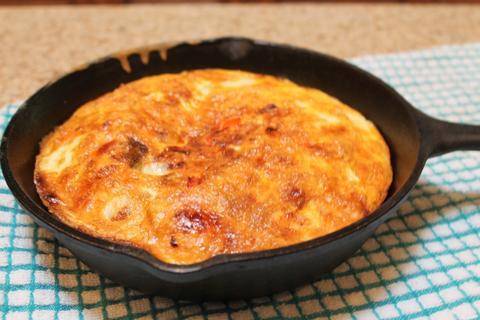 ---
6 eggs

1/4-1/2 c. Hatch Green Chile Roasted, Peeled, & Chopped

1/4-1/2 c. Monterrey jack cheese, shredded

1/4 c. onion, chopped

1/4 c. red bell pepper, chopped

1/2 c. thick sliced deli turkey, chopped

1 tsp. cumin

1 tsp. garlic powder

salt and pepper

1 tbsp. butter
Melt butter in an oven-safe pan, over medium heat. Saute turkey, green chile, bell pepper and onion until lightly browned.

In a separate bowl, whisk eggs. Then add cumin, garlic powder, salt, pepper and cheese.

If using a cast-iron skillet (or any pan without non-stick), spray non-stick on the sides prior to this step. When the chopped ingredients are browned, turn heat to low and pour in egg mixture.

Cook on low until the bottom and sides begin to set (the top may set a bit, too). About 5 minutes. While you wait, turn on your broiler.

Place skillet under the broiler for about 5 minutes, until the top is brown and bubbly. Insert a toothpick to make sure it's done.

Let cool slightly and enjoy. Then slice up the rest and refrigerate for up to a week. Instant gourmet breakfast.
P.S. Personally I love to add more veggies but I get not everyone is a big veggie fan. My favorites include spinach, squash, and zucchini :)
---
---
---