Hatch Green Chile Cheese Grits
---
It's a Saturday afternoon in July. Despite your best efforts for a productive weekend, you slept in and made pancakes while watching the latest Jennifer-Lopez-90's-movies marathon on TBS. Now it's 3 o'clock and with a cookout in 2 hours, it's time to figure out how to contribute to feeding the 5,000 without grabbing the nearest veggie tray. Green chile cheese grits to the rescue!
I know what you're thinking. Grits? To a cookout or a potluck? To be honest, I thought the same thing. But when my boyfriend's mom suggested the recipe and made it for this exact purpose, it WORKED. And they were YUMMY. One of my favorite things about summer is getting together outdoors for cookouts or potlucks. I always struggle with what to bring. I don't want to bring the same old thing, but I don't want to sacrifice my day with individual jalapeno poppers times a million. This recipe is so easy to make in a giant batch, and you could just as easily make a small one. It takes about an hour to make, but only 15 minutes of that is you working, and 45 minutes is your oven working and your house smelling like melty cheese. That sounds like a good gig to me.
The thing that makes this recipe unbelievably easy is the quick-cook grits. All you have to do is cook them according to the package directions and you immediately have a mountain of food ready for mix-ins and almost ready to go in the oven. It's really necessary to read the package directions carefully. I almost put 6 cups of grits into my 6 cups of boiling water, until I realized what was happening. I imagine the consistency would have somewhat resembled that of a football. It probably would've tasted similar, too. Once you make the grits, you add the true stars of this recipe. CHEESE AND GREEN CHILE.
---
quick cook grits

water

1/4 c. butter

2 c. cheddar cheese blend, grated

1/2 c. Chopped Hatch Green Chile

2 eggs, beaten

1/2 c. milk

dash of tabasco sauce

salt and pepper to taste
Pre-heat oven to 350 degrees.

Add butter, green chile, eggs and milk to the cooked grits.

Fold in cheese, reserving enough to melt on top at the end.

Add a dash of Tabasco, salt and pepper to taste.

Pour into greased 9x13 pan, and bake for 45 minutes.

Sprinkle reserved cheese over the top, and bake until melted and bubbly.

Cook grits according to package directions for serving 6.

Serve warm or room temperature.

Want to spice up your grits even more? Feel free to pour some of our Green Sauce on top!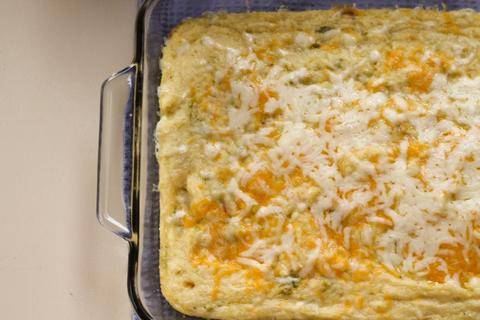 ---
---
---