Green Chile Pesto Stuffed Chicken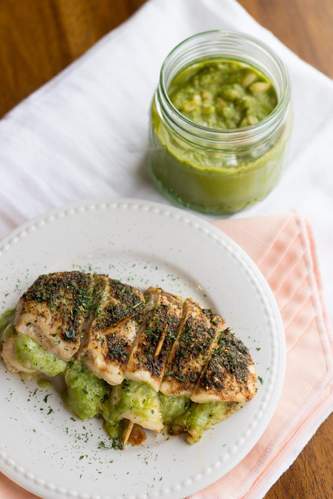 ---
This is going to be no average piece of chicken, as long as you just trust the process. It goes like this: brine, dry, butterfly, stuff, rub, bake. Sound complicated? It's not. I promise. At first I thought the brine and the stuffing would be enough flavor, but then I thought the inside of the chicken would be having all the fun and the outside might be a little lifeless. So I decided to make a little paste of spices, and it was the perfect final touch.
Don't be afraid of the lengthy time commitment and ingredient list. The reason it takes 2 hours and 30 minutes is because the chicken needs to sit in the brine for at least 2 hours. You can take care of that step the night before and just leave the chicken and the flavor steeping in the fridge. As for the ingredients, most of them are spices for the brine or the paste. So don't get nervous on me and revert to just salt and peppered chicken for the night.
I wasn't positive that basil and green chile would go together, but I gave it a shot and IT WORKED. Majorly worked. You can taste both the basil and the green chile flavor and there's just a little kick of spice at the end. The important thing to remember is to blend the basil, green chile, salt and garlic first. That way, you can make sure you don't have any garlic chunks running through. Then throw in the pine nuts and blend just a little more so that the pesto retains some of its rustic texture.
Usually pesto calls for some sort of cheese as well. If you want some parmigiano in the mix, go ahead! But this pesto is gluten-free, dairy-free and sugar-free, which is a major win in my book! You could also toss some zoodles with the pesto and pat yourself on the back for a yummy, SUPER healthy and pretty stinkin' gorgeous meal!
---
2 tbsp cumin

1 tbsp coriander

2 tbsp chili powder

2 tbsp garlic powder

4 tbsp salt

2 tsp parsley flake

1 tbsp coconut aminos

2 tbsp coconut oil

1 cup basil

1/2 cup Hatch Green Chile 

2 cloves garlic

1/2 cup pine nuts, toasted

1/2 cup monterey jack cheese (mild white cheese of choice)

1 lb. chicken breast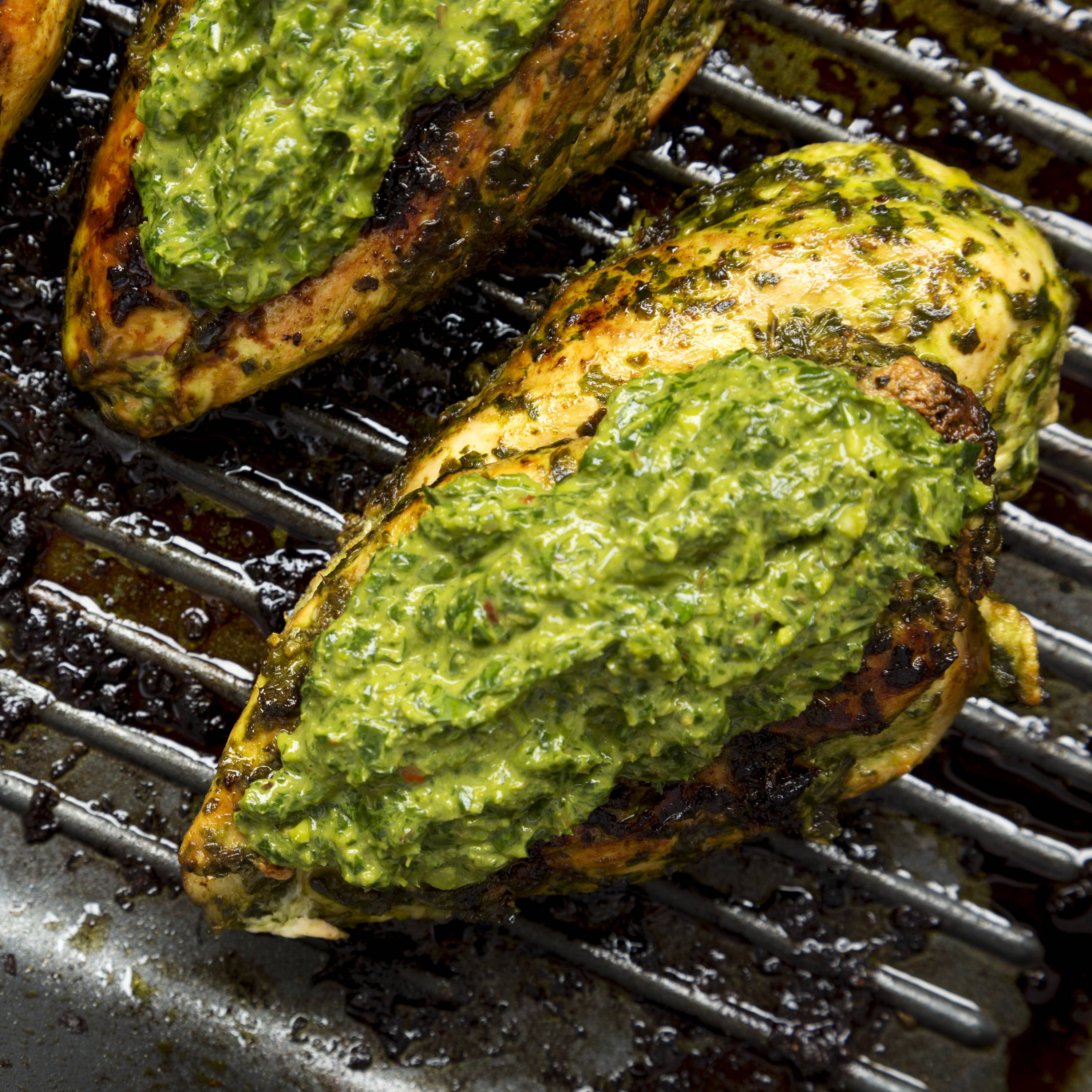 Combine 1 tbsp of each of the following in a gallon freezer bag: cumin, coriander, chili powder and coconut aminos. Add 3 tbsp of salt and 1 crushed clove of garlic.

Place chicken in the bag and cover with water.

Smush (technical term) the mixture around until combined and chicken is coated.

Refrigerate for at least 2 hours.

Combine basil, green chile, and remaining garlic in blender or food processor and blend till smooth.

Add toasted pine nuts, salt and pepper to the blender and give it a rough pulse.

Preheat oven to 400 degrees.

Remove chicken from bag and pat dry.

Slice the chicken open like a book.

Layer: pesto, shredded cheese, pesto. Fasten closed with toothpicks.

In a small bowl, combine remaining spices (or any you would like), add coconut oil and make a paste.

Top chicken with the herb paste. Bake for 20-25 minutes at 400 degrees (mine took 22 minutes).

Try not to drool too much. Nobody wants to see that.
---
Products Used In This Recipe
---
---