---
Summer in New Mexico is in full swing, and it has been since LONG before the "first day of summer," that was a mere 7 days ago. In my opinion, the first day of summer is at least when we hit triple digit temperatures. That was at least a month and a half ago. You might be wondering, how might pecan encrusted hatch green chile have anything to do with these awful temperatures? Well, let me explain. I am not usually one to eat according to the seasons (except Christmas, that is). I generally use fresh ingredients that are in season, but just because it's summertime doesn't mean I am making everything with watermelon.  
With that said, however, about the last thing I want coming home from a triple digit summer day is a steaming bowl of ANYTHING. One of my go-to summer meals is throwing together a salad of whatever I have on hand. That usually means some type of greens, bell peppers, grilled chicken and grilled corn. Though I'm resistant to summer stereotypes, grilled corn is one of the most delicious things that comes with the warmer weather. This salad undoubtedly has a Southwestern flare. But the main thing to keep in mind when you're making a throw-together salad is to vary the textures.
In this salad I had a lot of crisp summer veggies, some chicken, and the creamy avocado. But I was missing the crunch component that is always the cherry (or chile) on top for me. So I set out to create a more flavorful, more interesting crunch than tortilla strips for my go-to Southwestern Salad. This crunch became my pecan encrusted hatch green chiles.
The recipe for the green chile component was clearly more time-consuming than throwing the actual salad together. This is simply because, in order to achieve those long strips, you need to scrape the seeds out and cut them into small strips. Then you need to bread each one. The process is a tiny bit tedious, but it is really easy. But, oh my word, trust me. The process is so worth it. They are DELICIOUS.
---
Pecan Encrusted Hatch Green Chile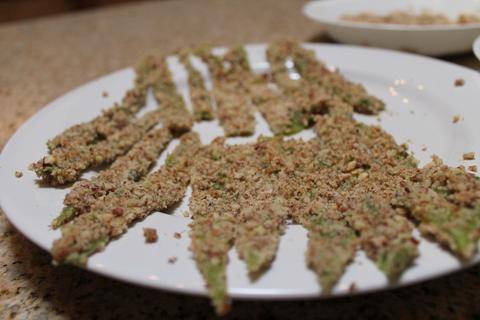 Instructions
Chop off the top of your Roasted Hatch Green Chile and slice open.

Slice each chile (butterflied open) into four long strips.

Chop New Mexican Pecans or grind with a food processor until they are a course meal consistency. They need to be small enough to stick to your thin chile pieces, so stop right before it becomes pecan flour.

Beat eggs and combine with milk.

Combine ground pecans and almond flour.

Pat Roasted Hatch Green Chile strips dry with a paper towel, then grab each strip

(using fingers is the easiest), dip it in the egg, then cover with your nut mixture, and pat the coating into the strip a little. Repeat with each strip (obviously).

Refrigerate strips for 15-30 minutes to let the breading set.

Place a cooling rack over a cookie sheet. Transfer strips to the cooling rack.

Spray with cooking oil, and sprinkle with salt.

Bake at 400 degrees for 15 minutes, or until the breading is crisp.
---
Ingredients
1 big bed of greens (your choice), fill the plate

1 tomato

1 red bell pepper

1/2 c. grilled, shredded chicken

1/4 avocado, sliced

4-8 pecan encrusted hatch green chiles, cut into small pieces

1 lime, juiced
Fill your plate with greens.

Pile ingredients on in the order of your liking.

Squeeze lime over the whole salad, and dig in!
---
---
---