Green Chile Chorizo Spuds
Green Chile Chorizo Spuds
---
Green chile chorizo spuds. If this isn't brunch heaven, I don't even know what to believe anymore. But don't worry. It IS brunch heaven. It also could be dinner heaven or snack heaven or middle-of-the-night-when-no-one-is-watching heaven. It really is comfort. This one is a spin off the very first thing I learned to make. Absolutely super awesome, flavor-packed, slightly caramelized and tender potatoes. That's the technical term, of course.
I've done all the imagining for you today. Close your eyes and picture it. Fragrant, spicy crumbles of chorizo alongside bright, tender bits of green chile with a mild kick, all nestled in the crevices of your not-quite-burnt potatoes, coated with garlicky, salty goodness. I'll pause while you clean up that drool. Okay, let's get back to it. Have you noticed that I keep saying CARAMELIZED potatoes?
Emphasis on the golden-brown, crispy first layer before you dive into the soft and warm center. Caramelizing the potatoes (however dark you like) is the most important part of this whole method. This means a couple things. First, when you're ready for the potatoes, get that pan hot. If you drip some water into the pan, it should dance across the surface. Second, drop 'em in and LEAVE THEM ALONE.
You've heard of helicopter parenting right? Well the concept can apply to cooking as well. The best flavor is derived when you let 'em sit in the fire for a bit. I know it's fun to stir, but constant stirring is for risotto (YUM), not golden-y goodness like we want for today. So once you drop those potatoes, let them sit for at least 3 or 4 minutes without touching them. You will not be sorry. That's all the advice I have for this recipe! I hope you love it.
---
2 pounds potatoes (red or yukon gold)

1 cup Hatch Green Chile, Chopped

1/2 package chorizo

1 tbsp. garlic powder

chives

salt and pepper to taste

1 egg per person (optional)
Cook chorizo over medium-low heat (about 5-7 min.)

Remove chorizo with a slotted spoon.

Evenly dice 2 pounds of potatoes.

Raise heat to medium-high and drop in potatoes. Leave them alone for 2-3 minutes to achieve a golden outer layer.

Season with salt, pepper and garlic powder.

Cook potatoes until soft on the inside and golden-brown on the outside (about 7-10 minutes).

Add chopped green chile to potatoes.

Add the cooked chorizo and warm through.

Top it off with an egg, sunny-side up, if you so desire.

Sprinkle some bright green chives over the top for garnish and flavor.

Serve!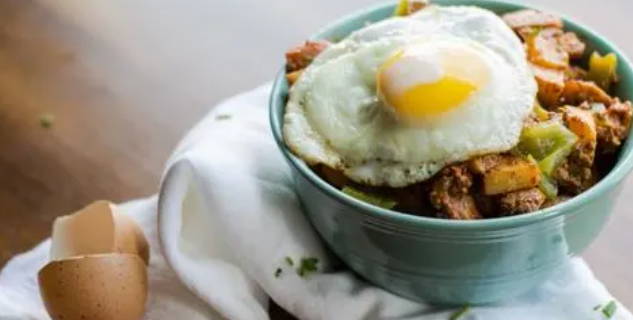 ---
---
---