FLAME ROASTED HATCH CHILE
Shipped with love, right to your door!
Flame roasted, peeled and flash frozen. The most convenient way to enjoy authentic Hatch Green Chile.
Handmade here in New Mexico using traditional recipes with 100% certified Hatch Green Chile.
Made with Hatch Chile grown here in Southern New Mexico, our sauces and salsas are guaranteed to impress.
Traditional Sandia Ristras, Chile Pequin Ristras, and Chile Pequin Crosses bring much needed New Mexican love to your home!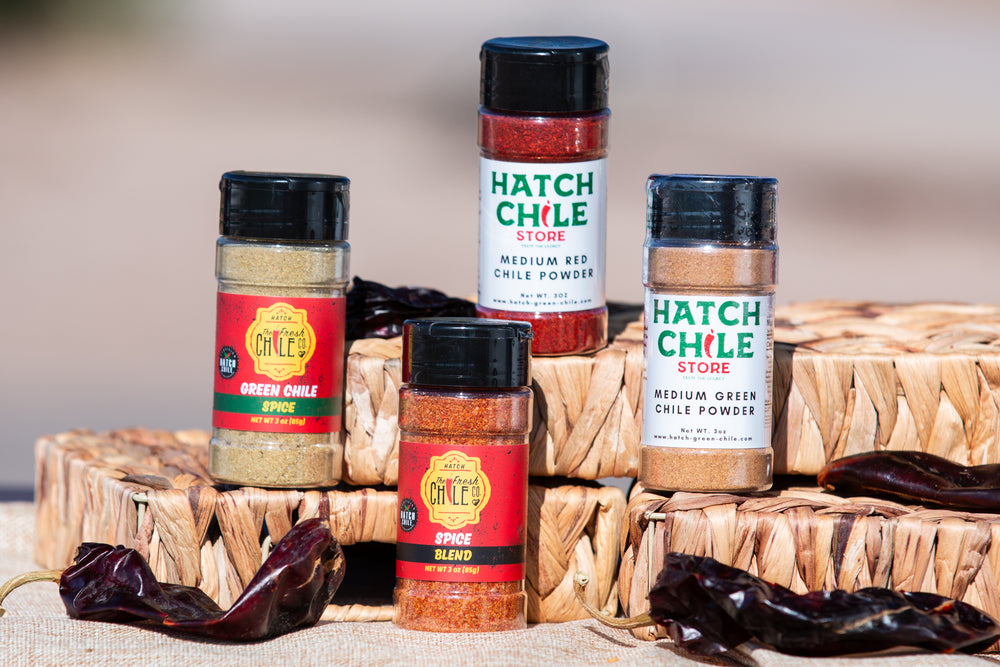 Add spice to your dishes with powders and seasonings made from Hatch chile. Perfect for gifts or your pantry!
Save on our products by ordering a variety pack. They make a great gift and are the perfect way to find something you love!
We are from Albuquerque and now love on the Central Coast in California and have been missing our Hatch chile so much- there's just nothing like it. Our order arrived and it was like gold had been delivered to our door!
- Ashley K
I received my order on time, packed beautifully. I lived in Las Cruces for 11 years and recently had to move back East. I miss the food, I miss my favorite green chile and you guys did not disappoint. The tamales I think are one of the best I have had from down there. The chimichanga's were the bomb. I will be ordering again.
- Deborah D
Great product, good pricing and very quick delivery! I lived in NM for a couple of years and fell in love with Hatch green chiles. Lovin' the opportunity to have a fresh supply available. Yumm!
- Mark B
family owned
Our family has been growing chile in the Hatch Valley since the beginning, literally! We're 5th generation descendants of Joseph Franzoy, the first commercial chile farmer in Hatch.
We take our family's legacy seriously so whether you're new to Hatch or a die hard Hatch-head who has your chile delivered monthly, you're in good hands here at the Hatch Chile Store!
5-TIMES THE FLAVOR
Our Varieties have 5 times the flavor compounds as other varieties grown here in the Hatch Valley.
NON-GMO RESEARCH
A portion of all online sales goes to help fund Non-GMO chile pepper research at NMSU.
FREE SHIPPING
FRESH SHIPPING GUARANTEE
We know ordering fresh chile can be nerve-wracking. Will it arrive in good shape? Will it spoil in the back of a FedEx truck?
We're so confident in our guaranteed shipping method (Overnight) that if you have serious spoilage in-transit, we'll reship for free!
SHIPPING POLICY